Spoljne veze
Calendar
August 2022
M
T
W
T
F
S
S
1
2
3
4
5
6
7
8
9
10
11
12
13
14
15
16
17
18
19
20
21
22
23
24
25
26
27
28
29
30
31
Our trade marks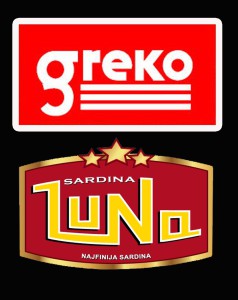 Canned Tuna
Tuna is declared as "in oil" and we can supply with three size variants: 160g, 170g and 185g.
Tuna can be produced as a shredded,flakes and as chunks.
There is a possibility of printing labels with our or your brand.

The can contains a cover with easy opening
but it is possible that a can be carved without this opening system.
If the purchaser wants to create its own brand,

the time required for the production of such a product is approximately 5-6 weeks from the time the advance payment and the minimum order is one 20ft container In each box contains 48 cans and about 1800 to 2000 cartons per container.
Payment terms are 30% advance and the remaining 70%
a few days before the goods arrive at the port of destination.
There is also the possibility of the placement of our brand "Greko", and if you are interested in this kind of cooperation we are open to any agreement.